Russian Hill Crest
West Penthouse 401
2701 Larkin Street
At Chestnut
Sold for $3,100,000
West Penthouse 401 has 2,222 square feet of interior space plus its 645 square foot protected west deck. This 2 bedroom suite unit can be combined with east penthouse unit #400 to create a 3,635+ square foot full floor one of a kind residence. PRINT property statement.
The Building
Russian Hill Crest was originally designed and built in 1914 as a three-story structure on the east end of the north west corner of Larkin and Chestnut streets. It was expanded shortly thereafter, tiered down the hill to the west, to become a 13-apartment seven-story building (on the west end) with ten units entering from Larkin Street and 3 units having individual entrances on Chestnut Street. Five levels have Golden Gate Bridge views.
Its recent total structural renovation has included a new foundation system adding a new 13-car garage with Klaus German parking systems. More than 100 concrete piers were drilled to anchor the building into Russian Hill's rock substructure.
All building mechanical systems, plumbing and electrical, have been replaced from the street to each unit including an all-new fire protection and unit annunciation system. All unit windows have been replaced with double paned Marvin systems many hand crafted to match the original formats. All units have individual forced air gas furnaces and washer dryer hook-us.
A new building "skin," new roofs and skylights complete this meticulous reconstruction.
About the Architect
Benjamin Greer McDougall
McDougall Bros. was an architectural firm consisting of Charles C. McDougall (1857-1930), Benjamin G. McDougall (1865-1937) and George B. McDougall (1868-1957). Their father, Barnett McDougall (1825-1905), came to California in 1856. He was a pioneer builder/architect with offices in San Diego and San Francisco.
Benjamin studied at the California School of Design and began work in his father's office. During the mid-1890s the brothers had offices in San Francisco and Bakersfield. After the 1906 earthquake Benjamin struck out on his own and built an influential private practice in San Francisco and the East Bay, designing among other significant public buildings the Oakland Federal Building in 1913. In that year his brother George was appointed California State Architect.
In 1912 Benjamin designed perhaps his most significant commercial structure the 14 story Standard Oil Headquarters at 115 Sansome Street in the monumental Beaux Arts style. The building is featured in the architectural publication Splendid Survivors and described as "one of the most sumptuous office buildings ever built in the area."
Immediately thereafter Benjamin was selected to design 2701 Larkin Street for Dr. Clark Burnham of Berkeley who had earlier purchased this pre-eminent Russian Hill site for his San Francisco residence. The building permit application was submitted in October 1914. The existing West Penthouse vaulted wood coffered ceiling is original.
Call Floyd Turnquist for additional details and appointments 415.474.5000 Ext 1 Office
415.602.7164 cell floyd@citiland.com | BRE #00637592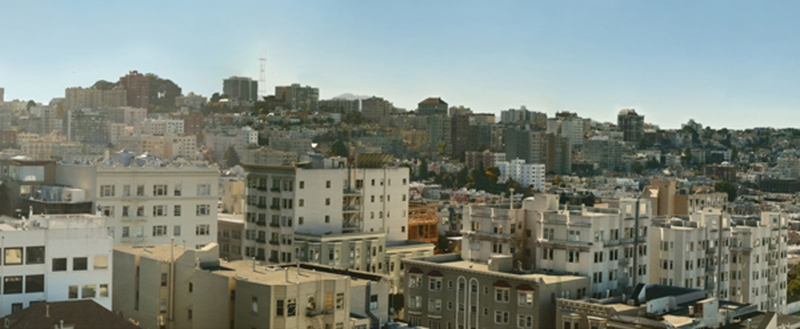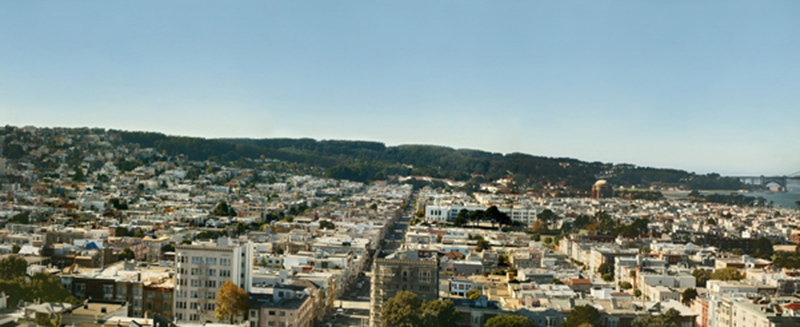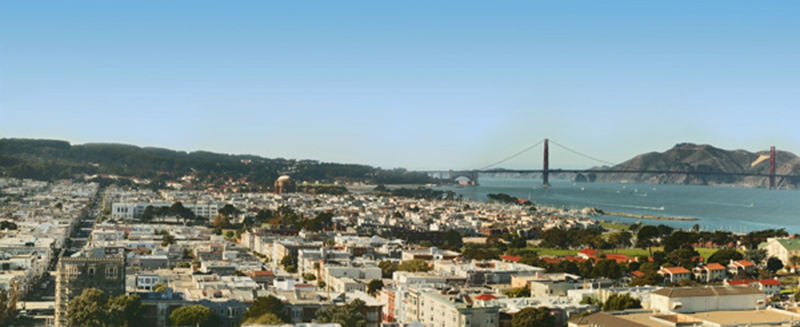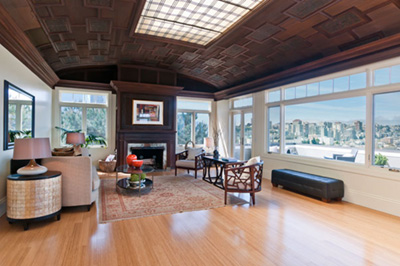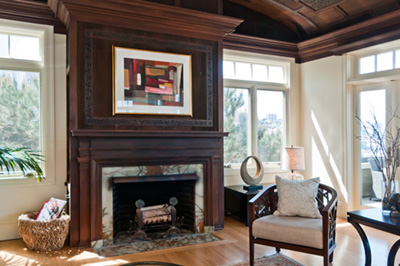 Expansive 45-foot full building width deck with infinity glass windbreak and living/dining/entertaining areas all feature panoramic 1800 west and north views. This great room has its original wood coffered vaulted ceiling, and fireplace.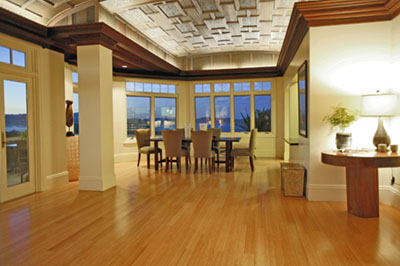 Dine indoors, outdoors, or in the huge catering quality kitchen, all with phenomenal Golden Gate Bridge to Alcatraz views. All main rooms as well as the wide art gallery foyer (with its own skylight) have bamboo floors.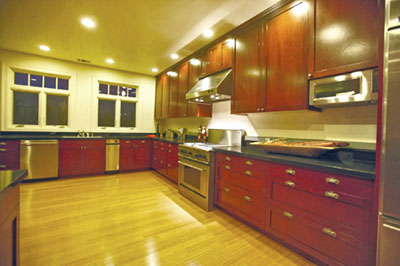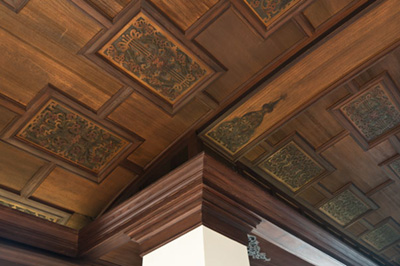 The apartment has two private carpeted bedroom suites. The large 14 by 18 foot master suite faces south. It has it a large walk in
closet and a dressing area adjacent to its bathroom. The second 11 by 15 foot bedroom faces north and also has a
large walk-in closet and en-suite bath.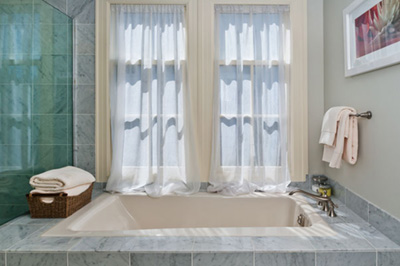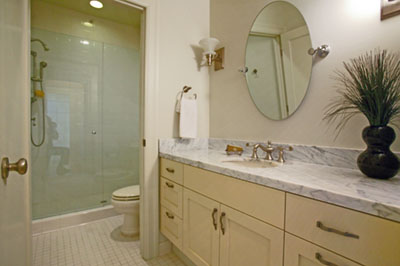 The master bath has granite counter, floor and bath surround. There is a separate shower, large soaking tub, and dual sinks. The second bath also with granite counter and floor has a shower.