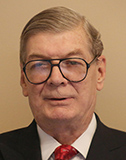 Superior Service and Experience
FLOYD R. TURNQUIST CPM, Licensing Broker
415.474.5000 Ext. 1 Office
415.602.7164 Mobile
415.474.1245 Fax
floyd.turnquist@gmail.com
floyd@citiland.com
BRE #00637592
Floyd Turnquist began his real estate career in Hong Kong during the mid-1970's. At the time he was an officer at Citibank's headquarters there, responsible for negotiating maritime mortgages for prominent Hong Kong ship owning families. Many of these families were also significant real estate investors interested in diversifying their portfolios to the United States. Several asked Floyd if he would be interested in returning to the US to assist in their acquisition of American real estate assets.
In 1976 he did just that, initially taking a position as CFO for San Francisco headquartered architecture and development firm Kaplan McLaughlin Diaz. In 1978 Floyd formed Citiland Investment Corporation to concentrate full time on real estate acquisition and management for a growing group of local as well as international investors.
Over the past 42+ years Floyd, and his wife Kathy who joined the firm in 1988, have assembled an excellent and close knit team of experienced sales agents and property managers. Since its inception the Citiland team have successfully accomplished assignments for buyers and sellers ranging from single family homes and condominiums to major investment properties.
Citiland's unusually successful performance on behalf of its clients is due to the sound foundation in business and financial principles of its select group of agents. All have real estate ownership and management experience. Most possess extensive international expertise. The Citiland team would like very much to put its extensive experience and expertise to work for you.
Prior to establishing Citiland Investment Corporation in 1978 Mr. Turnquist was employed in the following positions.
CFO KAPLAN / McLAUGHLIN / DIAZ: International Architects and Planners: Mr. Turnquist's financial management activities at Kaplan/McLaughlin/Diaz included responsibility for financial, accounting, budgeting, reporting, and control functions within the firm.
CORPORATE ACCOUNT MANAGER / CITIBANK N.A. WORLD CORPORATION GROUP / HONG KONG: As a corporate account manager of Citibank's Hong Kong branch, Mr. Turnquist had line responsibility for approving and monitoring current and term financial facilities extended by Citibank to a number of foreign-owned corporations and family groups.
ECONOMIC/MARKET ANALYST CITIBANK N.A. / HONG KONG: Researched, wrote and published Citibank's monthly Hong Kong Economic Letter which analyzed and reported current economic conditions in Hong Kong and China.
INTELLIGENCE OFFICER / U.S. ARMY: Assignments in Taiwan, Okinawa, Korea and Vietnam supervising research staffs responsible for analyzing economic and political developments affecting Asian nations and their implications for U.S. interest in the Far East.
EDUCATION
Master of Business Administration: Haas Graduate School of Business, University of California, Berkeley. Field: Finance and International Business.
Bachelor of Fine Arts: University of Illinois, Champaign. Fields: Architecture and Design
Language Study: Mandarin Chinese at the U. S. Government Defense Language Institute, Monterey, California.